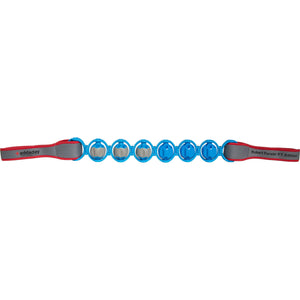 The Addaday Boomerang is a new way to roll out those hard-to-reach knots.

Like the Addaday Pro Roller, the Boomerang uses massaging gears to loosen up tight muscles. But Addaday created the Boomerang to wrap around your body.
Sling the 40-inch-long massager over your shoulder with one hand and reach behind your back with the other to roll the six massaging gears across your shoulders. Then cradle your calf muscle and roll the gears side to side as a pre-run warmup.
The gears on the Boomerang have two different densities: one density for a softer touch and one density for a more aggressive massage. And the flexible, dual-density design means you can floss the massager into places you can't get with other devices.
So, whether you need to work out a tight spot on your back or roll an achy shoulder, the Addaday Boomerang will help you get the relief you crave.