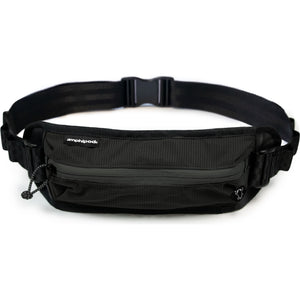 Whether you run on the road or trail, take everything you need with you in the Amphipod FKT Minimalist Trail™ Belt.
Carry your gear for an afternoon hike. This running belt has an easy-access expandable main compartment with an inner divided area for your run. This versatile pack can fit a 16 oz. Soft-Tech flask, has an internal key fob loop and outer utility biner loops that are perfect for gels.
This durable pack has rugged seatbelt webbing with custom spring-loaded quick-release buckle. The bounce-free belt has a fully breathable 3D mesh back panel to help reduce sweaty hotspots, and it is designed to go unnoticed.
The Amphipod FKT Minimalist Trail Belt makes sure you have your phone on hand to capture the beautiful views on your runs.