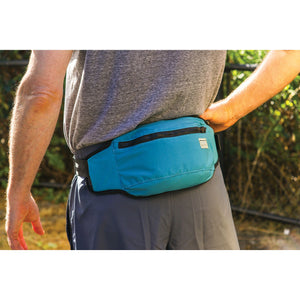 The Amphipod R3 Venture Out Pack is a convertible bag that is perfect to carry everything you need while running, traveling or hanging out with friends.

With 3.1L of storage room, there is plenty of space to hold even the largest phones, nutrition, keys, wallet, a jacket or 16 oz soft flask. There is a large internal pocket with an internal divider that has slots for a credit card, ID, and cash. Plus, there's a place for your key fob and a divided area for your phone.
Wear it around your waist when you run and convert it to a crossbody bag when you are out with friends.
The pack is fully-lined and moisture-resistant to keep your goods dry on the run, and the integrated R3 Stretch-Fit™ strap gives you adjustability, comfort and stability. Plus, the breathable 3D air mesh back panel eliminates sweaty hot spots
Whether you are running or relaxing, the Amphipod R3 Venture Out Pack will keep everything you need in one place.
Want something more compact, check out the Amphipod R3 Express Pack.