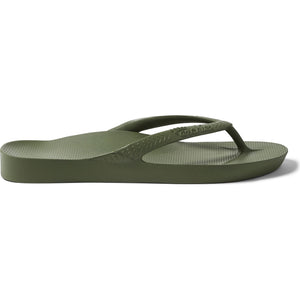 The Archies Arch Support Sandal is unisex, but the sizes shown are men's sizes. Women's sandals run one size higher than the men's sizes shown. For example, if you want a women's size 8, you'd select size 7.
Light, comfortable and supportive, Archies Arch Support Sandals will keep your feet happy all summer long.
These flip-flops have arch support to keep your feet feeling good. There is up to 2.2 cm of orthotic support that encourages optimal foot alignment by cradling and supporting your arches. Plus, they are made with a specialized closed cell foam material that molds and conforms to your foot for extra comfort and a personalized fit.
Walking will feel effortless thanks to the arch support and secure straps in Archies Arch Support Sandals. The one-time adjustable straps allow for the flip-flops to fit almost any foot shape and prevent your toes from clawing to keep your sandals on your feet—just give your straps a slight tug for one-way stretching. Plus, the ultra-strong one-piece design makes them extremely durable and less likely to blow out.
The Archies Arch Support Sandals are so lightweight and comfortable that you will barely notice that they are on your feet.