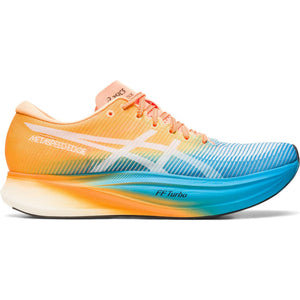 The ASICS Metaspeed Edge+ is designed for speed, so you can start fast and finish faster come race day.
Built for cadence-style runners, where you increase your speed by quickening your cadence, the Edge+ uses a full-length carbon plate and an energetic FFBLAST™ TURBO midsole that helps you conserve energy and maintain your fast pace through the later stages of your run. If you run faster by taking longer strides, check out the ASICS Metaspeed Sky+.
This race day shoe is curved with an updated midsole geometry to propel you forward with each step. Designers also repositioned the carbon plate to give you snappy toe-offs and a fast ride through the finish line.
While you're running twists and turns at top speedst, a lightweight and breezy MOTION WRAP™ upper keeps your midfoot secure while a sticky ASICSGRIP™outsole gives you the confidence to push the pace even in wet conditions.
The ASICS Metaspeed Edge+ takes race-day speed to the next level to help you chase down your next PR.