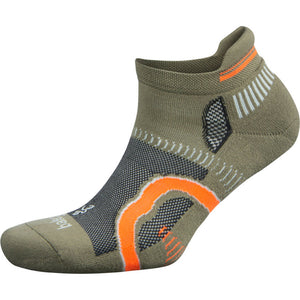 If you want a plush sock experience that fits like a glove, the Balega Hidden Contour socks are the perfect match for you. These socks are soft and comfortable with dense cushioning and 200 needle-count fabric. They provide a supportive fit that promotes the natural foot movement and proper blood circulation thanks to the unique positioning of varying elastic bands.

Sweaty feet won't be a problem in these socks—they contain Balega's proprietary Drynamix moisture wicking fibers and reinforced microfiber ventilation panels to keep your feet cool and dry.
A seamless toe, extra-deep heel and a heel tab help mitigate blisters and prevent any slipping in the shoe. Plus, this entire sock is made in the USA. You will be wanting to run extra miles after putting on a pair of Balega Hidden Contour socks.
Looking for a thinner sock? Check out Balega's Hidden Dry 3
Looking for a thicker sock? Check out Balega's Blister Resist No Show Socks