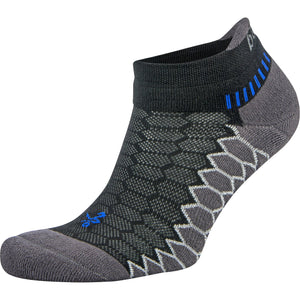 Keep your feet happy and smelling fresh with Balega Silver No Show Socks. These socks literally incorporate silver into the antibacterial sock design to combat odors and germs. When running, the sock absorbs sweat thanks to Balega's proprietary Drynamix ® moisture-wicking fibers and releases the silver ions that have antibacterial properties to remove fungi, bacteria and germs.
The Balega Silver socks fit snugly with a new compressive arch support band that allows for natural foot movement and proper blood circulation. They won't slip in your shoe either thanks to an extra-deep heel pocket.
Balega designed this sock to minimize blisters—they have a hand-linked, seamless, reinforced toe and a high heel tab. Say goodbye to stinky feet and hello to comfort in a pair of Balega Silver No Show Socks.
Looking for a thinner sock? Check out Balega's Ultralight No Show Socks.