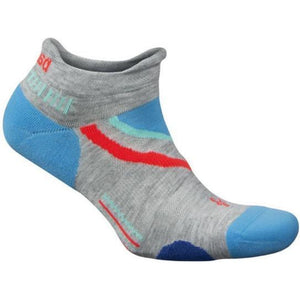 Say goodbye to blisters and hello to comfort with a pair of Balega Ultra Glide No Show Socks. These socks use strategic, protective cushioning that adds another layer of softness between you and the road.

Your feet will stay cool and dry thanks to the combination of Balega's proprietary Drynamix® moisture management fiber and a unique friction free yarn. Balega's fibers also incorporate a lubricant to help minimize blisters by reducing friction, managing heat and wicking moisture.
These socks will fit perfectly thanks to their thoughtful construction: A compressive arch band with ventilation panels, hand-linked toe closure and anatomical fit reduce bagginess. Plus, there is an additional cushion pad across the metatarsal area that provides extra cushion and protection, which is particularly nice to people who have bunions.
Treat your feet to a pair of Balega Ultra Glide No Show Socks, they deserve it after running mile after mile.
Looking for a thinner sock? Check out Balega's Ultralight No Show Socks. Looking for a thicker sock? Look for Balega's Blister Resist No Show Socks