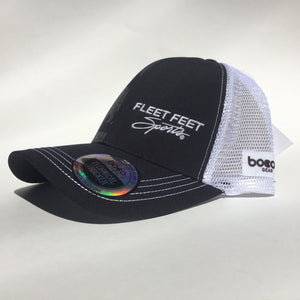 A team of BOCO pro athletes put this trucker hat through training and races (and gallons of sweat) so you can wear it with confidence during your workout.
The BOCO Gear technical trucker hat combines the old-school look of a classic trucker with performance modifications like a wicking internal sweatband, woven front material and structured panels. Mesh side and back panels let the wind blow through your sweat-soaked hair and an adjustable snap back closure will customize the fit to your melon.
The one-size-fits-all one-size-fits-most BOCO Gear hats will keep you looking cool even when your workout heats up. And with a design inspired by the state of California (home to the original Fleet Feet Sports!), this hat pays homage to the Golden State in a unique way.
Cleaning tip: Hand wash your hat or wear it into the shower after your workout