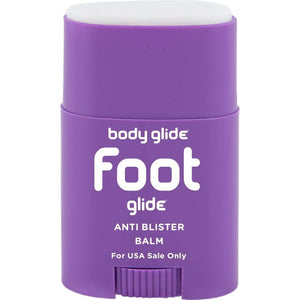 Going for a run? Protect your feet with BodyGlide Foot Anti-Blister Balm.
Swipe the balm on your heel, the back of your ankle, your big toe or wherever you get blisters to help prevent rubbing and chafing. The easy application glides on, and it's never greasy or sticky.
Infused with apricot kernel oil, comfrey leaf extract, and Vitamins A and C, the balm keeps your skin feeling soft and smooth. Plus, it does not contain petroleum, lanolin or mineral oils.
Whether you're logging miles, hiking a mountain or hitting the dance floor, BodyGlide Foot Anti-Blister Balm will protect your feet from blisters and chafing.