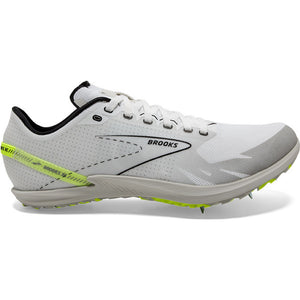 Optimized for the unpredictable, the Brooks Draft XC Spike gives you the confidence to take on any cross country course.
Brooks studded the Draft XC with six spikes to give you extra traction even on messy trails, while a bed of soft cushioning keeps you comfortable from start to finish. Plus, the clean white upper is the perfect place to write your goals or PRs with a permanent marker.
At just 6.5 oz, the Draft XC feels light and fast, giving you the distraction-free performance you need to make it onto the podium.