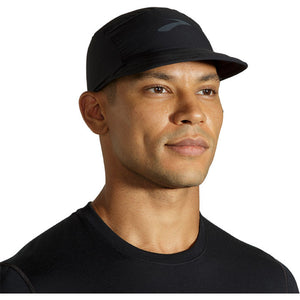 Keep covered no matter where your next run takes you—the Brooks Lightweight Packable Hat gives you sun and rain protection that easily travels anywhere.
You've found the perfect hat to take with you on your long runs and outdoor adventures. This Brooks running hat is made from recycled materials that are wind- and water-resistant for lightweight coverage. Once the clouds part, the hat is designed to pack down into its own rear pocket for easy portability.
Wear the brim traditionally or flipped up while you're working out and never worry about bending it too much—the crushable brim is designed to retain its shape over time.
Stow the Brooks Lightweight Packable Hat while you're on the go or traveling to your next race and break it out when you need extra coverage on your runs.
Need help finding the perfect hat for you? Check out our guide to the best running hats.