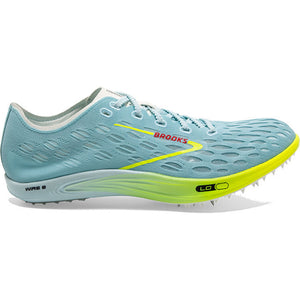 Lightweight and lightning fast, run all the way to the podium in the Brooks Wire 8.
Best for 1500-meter to 10K track events, this long-distance track spike is designed to be responsive and aggressive to get you to the finish line in record-breaking fashion.
The Brooks Wire 8 comes with nitrogen-infused, lightweight DNA cushioning so you stay nimble and comfortable lap after lap around the loop.
A five-pin, full-length aluminum Xelight spike plate has just the right traction and rigidity to go from cruising speed to an all-out sprint for the finish line. Plus, the airy and secure upper keeps you locked in when you're coming fast out of the corners.
Go for the win in the Brooks Wire 8 long-distance track spike.