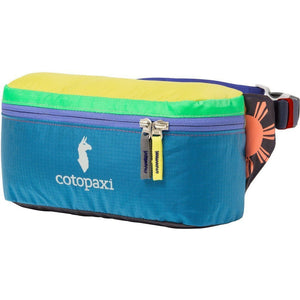 Named after a city in the Central Luzon region of the Philippines, the Cotopaxi Bataan Fanny Pack - 3L is a simple and streamlined pack with a one-of-a-kind style that looks good no matter where your next adventure takes you.
The fanny pack has stood the test of time as one of the best accessories for carrying your essentials on the go. This handy hip hugger has a large, 3L main storage compartment with two internal mesh pockets making it easy to organize your running nutrition, wallet, phone, keys, sunglasses and other essentials.
Colorful as it is convenient, the built-in strap and buckle combo is fully adjustable so you can wear it on your front, side, back or over the shoulder.
Like all of Cotopaxi's Del Día items, no two Bataan's are alike. Each pack in the Del Día Collection is made with remnant materials by employees who have creative control over its final look. This bag is built with repurposed nylon that's lightweight and durable, so it's ready to go anywhere. So from fabric to thread, your Del Día Bataan is one of a kind.