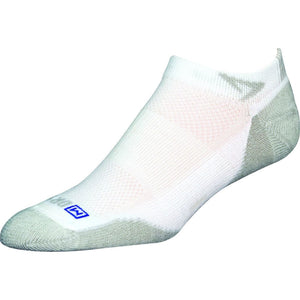 The Running Lite-Mesh Socks were designed with a special Dual Layer Moisture Removal System that moves moisture off the skin through the inner Drymax layer to the outer absorbent layer almost instantly.
Running Lite-Mesh Socks are a Low Density protective padded sock. We use dense padding, as opposed to thick padding, as it protects feet without adversely affecting the fit of the shoes. Our Running Lite-Mesh Socks were designed to be used in mild to warm conditions, keeping feet cool, dry, comfortable and odor free.
Several features work together as an anti-blister system to actively prevent the formation of blisters. 1) Exceptional 3D fit, 2) Five sock sizes, 3) Seamless insides, 4) An instep-hugging arch band, and 5) Because Drymax socks stay dry, the skin stays dry too; therefore blisters normally caused by sweat or sweat vapor are prevented.
Our v3 Running Lite-Mesh Drymax socks possess top and bottom mesh air vents designed to keep feet drier & cooler by working with the built-in vent systems in the new generation of breathable shoes.
The MicroZap? antimicrobial in the Drymax? Fibers is a silver - zirconium phosphate ceramic ion-exchange resin. It fights odor-causing bacteria, helping keep socks odor free. Not a topical treatment; MicroZap is molecularly infused into our Drymax fibers. Being non-migratory and non-toxic, MicroZap provides long term Active Odor Control.
The special fibers used in our Drymax Socks have a comfortable springiness and do not get stiff, shrink or lose shape over time. The whites are crisp and the colors never dull. They are designed to last a long time using the highest quality fibers, and abrasion resistant nylon fiber reinforcements in the normal wear areas.