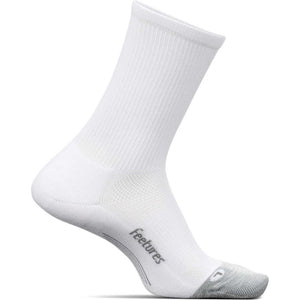 Ultra thin and ultra comfortable, Feetures Elite Ultra Light Cushion Mini Crew Socks will keep your feet cool and dry all workout long. Plus, they come in the new seasonal ROAM colorway.
These socks feel good from the moment you slip them on. They're engineered with an anatomical design for a custom-like fit and use targeted compression to make your feet and arches feel right at home.
Blisters will be a thing of the past in the Feetures Elite Ultra Cushion Mini Crew Sock. A seamless toe prevents any irritation and light cushioning gives you added protection for a distraction-free run.
The 5" cuff is perfect for ankle coverage when you're trail running through overgrown single tracks or when you just want to make a fashion statement during your workout.
As your run heats up, Feetures technical iWick fibers keep your feet cool and dry and give the socks extra durability to keep them from stretching out. Plus, these ultra thin socks take up minimal space in your shoes.
Focus on crushing your run, not your socks slipping down the back of your shoes, with the Feetures Elite Ultra Light Mini Crew Sock.