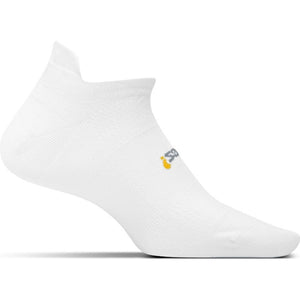 Your feet will love Feetures High Performance Ultra Light Cushion No Show Tab Socks for their comfort, seamless toe and moisture-wicking fibers.
These running socks have power bands of elastic Lycra that hug your foot and arch for a snug, supportive fit and eliminate movement while providing cushion. Feetures' durable iWICK® fibers wick away moisture to keep your feet cool and dry.
Ultra Light is Feetures' thinnest cushion option to give your feet a lightweight and cool feel while taking up less room in your shoes. Plus, they have a mesh construction on top that improves ventilation for added breathability.
The No Show Tab is perfect because it sits below the ankle so the sock doesn't slip into your shoe or rub against your heel.
Slip your feet into a pair of Feetures High Performance Light Cushion Socks and discover why good socks are essential gear for running.
Want a thicker sock? Try Feetures High Performance Light Cushion No Show Tab Socks