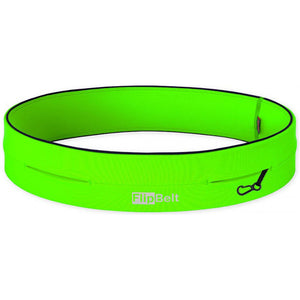 The FlipBelt lets you carry everything you need while you run with no unnecessary bulk.
The FlipBelt is a tube of stretchy athletic fabric—92 percent micropoly, 8 percent lycra—that lies flat around your waist. Just step into the belt and pull it on like a pair of pants; you can wear it over or under your clothes.
Designers cut horizontal openings in the belt to let you easily slide in your phone, ID, credit card, car keys and even a small water bottle or snack. Once you're loaded, you can flip the entire belt over so the openings are securely pinned against your body.
FlipBelt was designed to stay put. The snug fit ensures nothing bounces around as you run, and it doesn't ride up or slip down. Because it's made with the stretchy, moisture-wicking fabric, it can carry larger smartphones while still giving you enough room to stash your smaller items.
On the outside, designers included a reflective logo so you're visible in low-light situations, and the entire thing is machine washable for easy cleanup.
If you need an easy, secure way to carry all your gear while you're running, look no further than the classic FlipBelt.