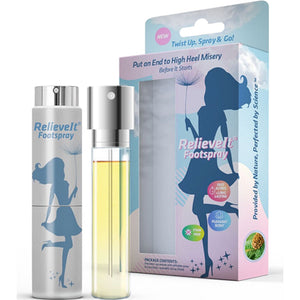 Whether you're getting your steps in or stepping out in your stilettos, RelieveIt Foot Spray provides fast-acting relief to tired, achy feet.

With a plant-based blend of powerful pain relievers, like Arnica and Caribbean pine resin, and lemon, eucalyptus, tea tree and lemongrass essential oils, RelieveIt Foot Spray doesn't hold back when providing sweet smelling pain relief.
Quick-absorbing and super-moisturizing, the RelieveIt Foot Spray won't leave a stain on fabrics and comes in a spill-resistant, easy-to-carry canister so you can have instant access to pain relief no matter where you are. A quick spray on each foot, and you're ready to go!
Don't let pain cramp your style. RelieveIt Foot Spray provides on-the-go relief so you can put your best foot forward.