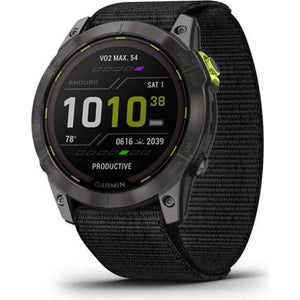 The Garmin Enduro 2 was built to run to the ends of the earth with you.
The Enduro 2 comes packed with all the amazing smartwatch features you've come to expect from the best Garmin watches with the added bonus of seemingly endless battery life.
Engineered for endurance activity, this GPS running watch has up to 150 hours of battery life in GPS mode with solar charging and to 34 days of battery life in smartwatch mode (plus an additional 12 days when solar charging.) That means the Enduro 2 will outlast your next adventure whether you're running an ultramarathon or taking an extended backpacking trip.
The extra-long GPS battery, paired with Garmin's power-saving positional accuracy and built-in mapping, will help you find your way no matter where you are in the world. Plus, if your race or hike extends beyond the daylight, a super bright LED flashlight helps you keep an eye on your surroundings.
Garmin built the Enduro 2 for the extremes—the rugged, sophisticated and lightweight design features a large 1.4" solar charged display and 51 mm case with a sapphire lens. The UltraFit wristband stays secure and provides long-distance comfort even in the most punishing conditions.
When you're on the move and every second counts, the Enduro 2's traditional button controls work in any environment and are matched with a responsive new touchscreen interface for quick access to selections and functions.
To help you train smarter and go farther, a host of sensors and grade-adjusted performance metrics give you an uninterrupted picture of your health and fitness. Plus, it includes built-in sports apps for activities including adventure racing, trail running, swimming, biking, backcountry skiing, climbing, surfing and more, meaning you can track your workout no matter what you're doing.
Not sure which Garmin is best for you? See our comparison of Garmin GPS watches.