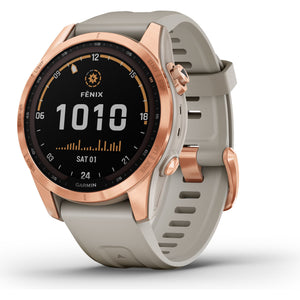 The Garmin fenix 7s Solar has the latest technologies to let you track your workouts and help you perform better. Now you can harness the power of sunlight for more battery life in a smaller, more compact watch.
The fenix 7s Solar has all of the same great features as the fenix 7s, but has the additional benefit of Power Glass™, which has the ability to convert sunlight into battery life. Garmin has redesigned their solar panel to both increase the surface area and the efficiency of the solar panel to give you more battery life than the fenix 6s Pro Solar Edition. The fenix 7s Solar is the smallest fenix 7 series to fit smaller wrists better. With that, it does have a bit less solar battery life than the other Fenix 7 solar watches.
The updated and ultratough design features a display with a 1.2" display that is tested to U.S. military standards for thermal, shock and water resistance. The new fenix 7s Solar features both trusted button controls that work in any environment and a responsive touchscreen interface, so you can quickly access your selections.
Downloadable topographical maps and navigation sensors help you track your runs better than ever before, so getting lost is a thing of the past. You can access multiple global navigation satellite systems (GPS, GLONASS and Galileo) that give you the most accurate readings and can track your run in more challenging environments than GPS alone.
The fenix 7s Solar tracks pretty much everything you can think of during your runs, including pace, distance, heat and altitude adjusted VO2 Max, heart rate, trail running adjustment, recovery advisor, real-time stamina data, and other advanced training metrics.
There are also some great features on the fenix 7s Solar to help you race. A visual race predictor gives you an estimate of what your pace could be for the distance you want to run based on your past performances. Garmin also developed PacePro™, which keeps you on pace during your race with grade-adjusted guidance. Plus, the "Up Ahead" feature shows you selected map or course information for what's coming up ahead, including aid stations, upcoming distance/elevation, and key trail points.
The fenix 7s Solar has all of the great features you know and love from Garmin. Smart notifications appear on the phone, so you will always get a text message or alerts. You can listen to your music with 16GB of storage, and WiFi connectivity, Garmin Pay, and the battery life in the fenix 7s Solar is great to tackle even all-day adventures. Not sure which Garmin is right for you? Check out our guide to choosing the best Garmin watch for you.