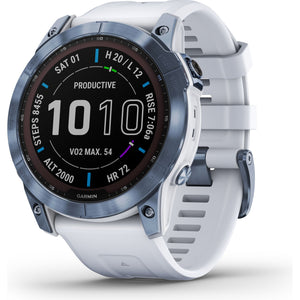 It doesn't get any more high-tech than Garmin's fenix 7X Sapphire Solar. This GPS watch has the most cutting-edge features to help you train smarter and run longer.
Garmin capped the fenix 7X Sapphire Solar with a Power Sapphire lens™, which can convert sunlight into battery power while also being incredibly durable—the sapphire lens is extremely resilient, which makes it much more difficult to scratch than glass. Since the 7X has a 1.4" display screen, the largest of the fenix 7 series, it also has a large solar lens to produce more battery power than the fenix 7 Sapphire Solar or fenix 7s Sapphire Solar.
The updated and ultratough design is tested to U.S. military standards for thermal, shock and water resistance. The newest fenix 7 watches feature the trusted button controls that work in any environment and a responsive touchscreen interface so you can quickly access your selections.
With preloaded topographical maps and navigation sensors, getting lost is a thing of the past. You can access multiple global navigation satellite systems (GPS, GLONASS and Galileo) so you have the most accurate readings and can track in more challenging environments than GPS alone.
The fenix 7X Sapphire Solar also has an LED flashlight, which contains both white and red lights that can be used as a flashlight to find things or for visibility (in case you unintentionally workout later than expected). There's also a run cadence mode that flashes white as your arm moves forward and red as it goes backward (helpful to pacers during nighttime portions of ultramarathons). Plus, there is a S.O.S. mode that will flash the actual S.O.S. signal and also display emergency contact information on the watch face.
The fenix 7X Sapphire Solar also tracks advanced training metrics during your runs, including pace, distance, heat and altitude adjusted VO2 Max, heart rate, trail running adjustment, recovery advisor, real-time stamina data and more.
There are some great features on all of the fenix 7 watches to help you race better too. A visual race predictor gives you an estimate of what your pace could be for the distance you want to run based on your past performances. Garmin also developed PacePro™, which keeps you on pace during your race with grade-adjusted guidance. Plus, the "Up Ahead" feature shows you selected information for what's coming, including aid stations, upcoming distance/elevation, and key trail points.
The fenix 7X Sapphire Solar has all of the great features you know and love from Garmin. Smart notifications appear on your watch face, so you will always get text messages or alerts and 32GB of storage (up to 2,000 songs) means you can listen to your music without bringing your phone. Plus, the device includes WiFi connectivity and Garmin Pay, so if your run isn't going well you can pay for an ice cream break with your watch.
Not sure which Garmin is right for you? Check out our guide to choosing the best Garmin watch for you.

Want a smaller watch? Look at the fenix 7 Sapphire Solar or fenix 7s Sapphire Solar