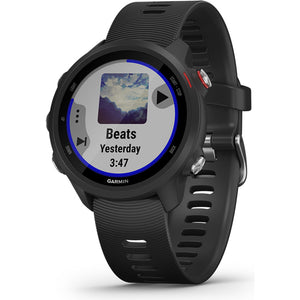 The Garmin Forerunner 245 Music is the feature-packed GPS running watch that does everything most runners need—and then some.

Garmin's newest watch tracks your daily miles using GPS, GLONASS or Galileo satellite systems; it has a built-in heart rate monitor to keep tabs on how hard you're pushing; and it has a waterproof rating of 5 ATM, which means it's good down to 50 meters.
The new Foreunner 245 Music refreshes the outgoing Forerunner 235 by adding new features and improving on some old ones. One of the biggest additions to the 245 is Garmin's Running Awareness features that let you share your location with a list of contacts so you can stay safe (or just let them track you during a race). You can also sync the watch with your smartphone to get text, email and other notifications right on your wrist.
Designers also improved the Bluetooth capabilities, tacked on a Wi-Fi connection, gave it space to hold up to 500 songs and added more training metrics to help you run and recover smarter. (The base Garmin Forerunner 245 does everything the Music version does, but without Wi-Fi or storage for tunes.)
In a review of the Garmin Forerunner 245, our tester loved how comfortable the watch is and how easy it is to keep track of daily and weekly mileage. She used it during training for a 100-mile race, and the ample battery life kept her running through 80-mile training weeks.
The upgrades make the lightweight, low-profile running watch an ideal partner for your training.