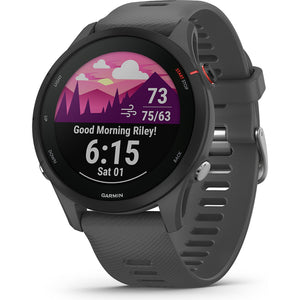 Take your running to the next level with the Garmin Forerunner 255.

This GPS running watch is light on your wrist, but full of training and recovery features to help you achieve your goals. The Forerunner 255 features easy-to-use buttons and a silicone band to make it ready for your sweaty workouts. This watch accesses multiple global navigation satellite systems to track your runs, walks, bikes, swims and more. It has over 30 different activity profiles that it can track, which now includes triathlons.
You can track your distance, pace, elevation, heart rate and more for each run to help you train better. Not only can you create workouts and send them to your watch, but the Forerunner 255 has daily suggested workouts and course details on its race widget to help you train your best. Plus, Garmin improved the battery life of the Forerunner 255, so you can train up to 30 hours in GPS mode or wear it for up to 14 days in smartwatch mode before needing to recharge.
Stay safe on your runs thanks to LiveTrack, which lets friends and family follow your real-time location and view your pre-planned course. Plus, If you feel unsafe or if your watch senses that an incident occurred, the assistance and incident detection features send your location to emergency contacts.
The Garmin Forerunner 255 is great to help you maintain a healthy lifestyle—it tracks your steps, stress level, heart rate, sleep and more, so you know how your body is moving and recovering throughout the day. Plus, you can receive emails, texts and alerts right on your watch when paired with your Apple® or Android™ smartphone. You can even respond to texts if you have an Android phone, so you can leave your phone on the charger and enjoy life without worrying about missing an important text or phone call.
The Garmin Forerunner 255 is the perfect training companion for runners of all abilities.
Not sure which Garmin is right for you? Check out our guide to choosing the best Garmin watch for you.
Want a smaller watch? Look at the Garmin Forerunner 255S.