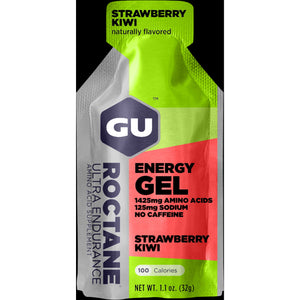 Roctane Ultra Endurance Energy Gel comes from years of testing scientifically-proven formulas with thousands of elite athletes training for and competing in the most physically-demanding sports in the world. Roctane's advanced formula amplifies GU's original Energy Gel recipe and adds new ingredients to boost your chances of success. Now it's your turn to fill your tank with premium Roctane Ultra and compete like a pro.
Roctane Ultra Endurance Energy Gel packs 100 calories into every packet. It's an ideal serving size to suck down 15 minutes before training or racing in order to top off your electrolyte and glucose stores, followed by one every 30-45 minutes along the way, washed down with a few sips of fluid.
For optimum results, always drink at least 24-30 ounces of fluid per hour during training and racing.
Exact Roctane intake depends on the intensity of your pursuit and your body weight and fitness level. The fitter you are and the more you are used to consuming carbohydrate during exercise and the more Roctane you can eat each hour, up to approximately 340 total calories including gels, solids and drinks.