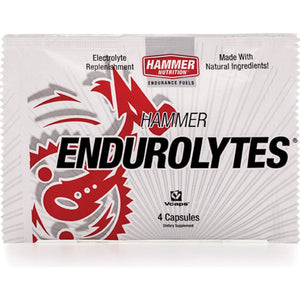 Electrolyte replacement during exercise can vary as much as tenfold between two athletes. No other area of endurance nutrition or supplementation calls for such individualized dosing, and perhaps no other area of fueling can drop you out of the competition as quickly as electrolyte depletion or overdose. This is a critically important area where correct dosage is amust; you simply musn't consider getting electrolytes out of a premixed drink. The risk of too much fluid and too few electrolytes is high, which is not good for your stomach, muscles, or performance.
You want a product that allows effective electrolyte replenishment under any weather condition, any length of exercise, and any intensity of exercise. Endurolytes, unlike any other pill, tablet, or premixed drink, is that product. Also, don't make the mistake of thinking that electrolytes = sodium. Sodium alone cannot and will not effectively replenish electrolyte needs and may cause more problems than it resolves. With Endurolytes you're assured of getting all of the right minerals in exactly the right balance.
Endurolytes comes in convenient capsules or powder form. You can swallow the capsules hourly, or open them and mix your own amount into your water bottle, whichever is most convenient for you. When you don't feel like taking capsules, Endurolytes Powder is the answer. Nearly identical to the Endurolytes encapsulated formula, Endurolytes Powder comes "in bulk" with a scoop (one level scoop is equal to one Endurolytes capsule), allowing you to mix the powder directly into your water bottle. We've added 50 mg of the amino acid glycine, which helps neutralize the naturally salty, slightly bitter taste of the electrolytic minerals. There are 150 scoops (serving) per container.