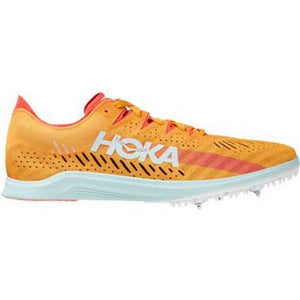 The HOKA Cielo X LD gives you the push you need to finish strong. Equipped for long-distance track events ranging from 3K-10K, the Cielo X LD is HOKA's first spike with a carbon fiber plate and meets the World Athletics' guidelines.
When your legs are tired but it's time for your final kick, the propulsive carbon fiber plate gives you the extra snap you need to speed up your leg turnover.
HOKA's responsive, lightweight performance foam gives you the protection and support you need to race longer distances, without adding anything extra. This symmetrical and low-profile bed of cushion keeps your foot close to the track for better ground-feel and efficient push-offs.
The Cielo X LD feels ultra-light on your feet, coming in at just 3.7 ounces, and the super-breathable engineered mesh upper hugs your foot to keep you confident as you race around the bend. For shorter or middle distances check out the HOKA Cielo X MD.