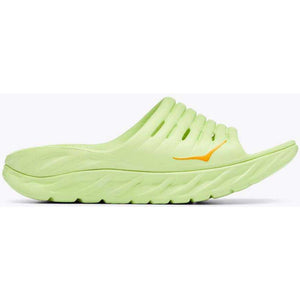 The HOKA U Ora Recovery Slide is unisex, but the sizes shown are men's sizes. Women's sandals run two sizes higher than the men's sizes shown. For example, if you want a women's size 8, you would select size 6.

Your feet helped you put in the miles or finish the race. They deserve some TLC after the run. Slip into one of the best recovery sandals, the HOKA U Ora Recovery Slides, to make your feet happy with comfort and support where and when you need it.
The Ora Recovery Slides have a soft top layer EVA foam midsole, which creates instant step-in comfort. The bottom layer is made up of a resilient midsole/outsole to give you durability and stability.
HOKA included its signature Early Stage Meta-Rocker to give you a smooth ride. There are strategic groove placements throughout the sandal for optimal flexibility and traction. Plus, these slides boast the American Podiatric Medical Association Seal of Acceptance, which recognizes products that have been found to be beneficial to foot health.
Not only are these slides great for wearing after a run, they are also great to use around the house on hardwood or tiled floors to give your feet extra support. Now with unisex sizing, you can find the pair of Ora Recovery Slides to best fit your needs.
Treat your feet to a pair of HOKA U Ora Recovery Slides.