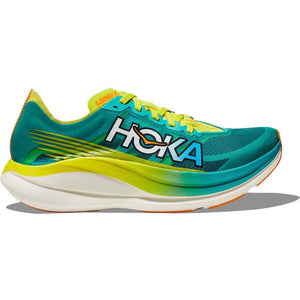 Get ready to blast off in the HOKA Rocket X 2.
HOKA designers completely redesigned this shoe to make you as fast and efficient as possible. A new, spoon-shaped, carbon-fiber plate gives you enhanced propulsion. They sandwiched it between two layers of their new PEBA midsole foam that is ultra-responsive and ultra-lightweight to give you the best performance. Their Profly™-X Construction gives you cushioned landings and propulsive toe-offs.
The performance upper gives you a foot-hugging fit with an internal midfoot cage and a gusseted tongue that locks your foot over all of that cushioning as you whip around turns, which stood out to runners in our HOKA Rocket X 2 review.
It has a wider toebox than other carbon-plated race day shoes and offset lacing to keep the pressure off the top of your foot. Plus, designers strategically placed the rubber outsole for good grip and traction on the road, while still keeping it lightweight.
One of the best carbon-plated shoes, the HOKA Rocket X 2 will help you hit top speeds.