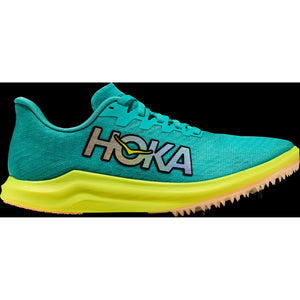 Finish strong and hit a new PR in the HOKA Cielo X 2 LD track spike.
A secret weapon for intermediate to elite athletes running long distance events ranging from 3K-10K, the Cielo X 2 LD is equipped with a snappy carbon fiber plate that meets the World Athletics' guidelines.
To keep your legs feeling fresh as you go the distance, HOKA brought the cushioning to life through a supercritical foaming process and added extra height in the midsole of the new Cielo X 2 LD, so you'll have some extra gas in the tank when it's time for your final kick.
Coming in at just 3.7 ounces, this carbon-plated speed demon feels faster and more responsive than ever and has a breathable lace-knit upper that gives you a confident, race-ready fit.
Lightweight, propulsive and exhilarating to run in, rip around the track in the HOKA Cielo X 2 LD track spike.