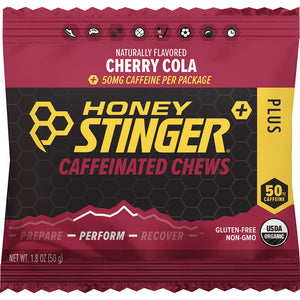 Get the boost you need to power through your next workout with Honey Stinger Caffeinated Chews.
Made with real honey and packed with caffeine, these chews are designed to give you a quick and easy source of energy whenever you need it most.
With 32 mg of caffeine per chew and a 3-to-1 ratio of sodium to potassium for added electrolytes, these sweet, bite-sized chews are perfect for anyone who needs a quick pick-me-up during a long run, bike ride or hike.
Plus, they're gluten-free, non-GMO and made with all-natural ingredients and no artificial flavors or preservatives, so you can feel good about what you're putting in your body.
Convenient to throw into your running pack and easy to digest to help you perform at your peak, take the Honey Stinger Caffeinated Chews with you whenever you need a little kick of energy.