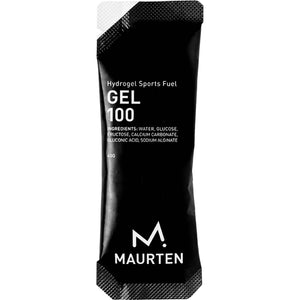 When you're pushing your limits, your body needs carbs to keep going. How you get those carbs is important.
Traditional sports drinks release loads of sugar into your stomach, which can tax your digestive system, causing distress and potentially ruining your race. But Maurten found a way to have your carbs and eat them, too.
Maurten's Gel 100 employs the same hydrogel technology developed for its Drink Mix 160 and Drink Mix 320. The hydrogel makes it easier to digest high concentrations of carbohydrates and electrolytes by trapping them in a 3D structure, like medicine in a capsule. That structure carries the nutrients into your intestines where they are released and absorbed by your body.
Like other Maurten sports drinks, Gel 100 is made with six natural ingredients and forgoes artificial colors, flavors and preservatives to give you the clean fuel your body needs during your hardest workouts. But unlike the drinks, Gel 100 delivers the 25-gram hit of carbs in a ready-to-eat formula—no mixing or measuring required.
Most importantly, the fuel works: Elite athletes are using Maurten to power bids for the biggest marathons around the world.