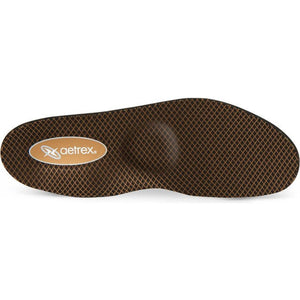 Run, workout and compete pain-free with Aetrex Compete Insoles.
Aetrex Orthotics are made to fit in your running shoes, golf shoes, hiking boots and other footwear to add comfort and arch support as you walk or run.
Designed to support your longitudinal arch and provide the alignment needed to reduce the effects of overpronation, these insoles can help relieve foot injuries and pain caused by the repetitive stress of running and walking. The arch placement is proven to help relieve plantar fasciitis and common heel/arch pain. It also supports your natural alignment, relieving strain on your knees, hips and back.
The cupped heel helps to cushion and stabilize the back of your foot so you can stay active on your feet all day, while high-energy return performance cushioning made of polyurethane helps with shock absorption and shape retention to transfer pressure away from high-impact areas.
Plus, a top cover of Pro-Shox® polyester fibers wicks away sweat and moisture fast to keep your foot cool, dry and blister-free.
Make running and walking a joy again with men's Aetrex Compete Insoles.