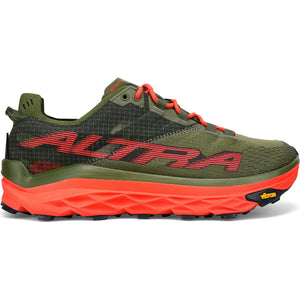 Incredibly lightweight and protective, say "bonjour" to the Altra Mont Blanc—a true performance trail shoe.

This shoe is made to sustain speed over ultra marathons. The EGO™ MAX midsole foam is plush, light and flexible to give you soft cushioning mile after mile. Altra's Balanced Cushioning™places the same amount of cushioning in the forefoot and heel (or zero heel-to-toe drop) to promote a natural footstrike.
Inspired by the highest mountain in the Alps, the outsole features Vibram® LiteBase which includes micro and macro lugs for traction on any terrain without adding extra weight. While this shoe is built for racing 100-mile races, it feels just as comfortable going for a quick run on a weeknight.
The ultra-lightweight and hyper-breathable upper is designed with protection and material strategically placed only where you need it. The Mont Blanc has Altra's signature FootShaped™ toe box that allows your toes to relax and splay naturally for miles on uneven ground.
Go further and faster with the Altra Mont Blanc.