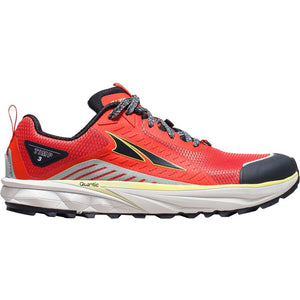 Explore even the toughest trails in a pair of the Altra Timp 3.
The Timp 3 has a MaxTrac™ outsole as well as innerflex grooves that give you the ultimate grip, connect you to the ground and allow you to adjust for uneven terrain.
Your toes won't be squished in these trail shoes—the Timp 3 features Altra's signature FootShape™ toebox, which allows your toes to splay and is especially helpful to steady yourself on uneven ground. The engineered mesh upper is breathable and lets it drain quickly if you go through creeks or puddles. Plus, there is no fear of dirt or debris getting into the Timp 3 thanks to its gusseted tongue.
The Quantic™ foam is a lightweight cushion that keeps you comfortable mile after mile, so you can explore further. Altra's Balanced Cushioning™ platform positions your heel and forefoot at an equal distance from the ground (also known as a zero-drop heel-to-toe difference) that encourages you to run more naturally.
With exceptional grip and cushion, you will be able to conquer any trail in the Altra Timp 3s.