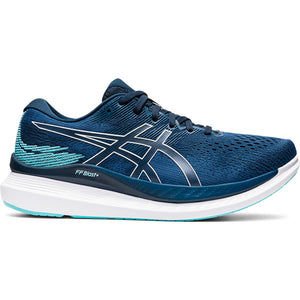 Conserve energy and run longer in the ASICS GlideRide 3.
The soft and breathable GlideRide 3 uses ASICS' GUIDESOLE™ technology that reduces ankle flexion and lightens the load placed on your foot. This is used in conjunction with a curved sole design to help you effortlessly roll through your gait cycle.
The biggest change in the GlideRide 3 is the addition of FF BLAST+™ cushioning, which is both softer and lighter. You will now experience a soft, pillow-like landing whereas the FLYTEFOAM® Propel cushioning creates a more responsive rebound at toe-off to help propel you forward.
ASICS also redesigned the upper to make the fit more comfortable. The engineered mesh is softer and more breathable as it wraps around your foot and increases airflow to keep your feet cool. There are 3D print details strategically positioned throughout the upper to promote a secure fit. It is also made with recycled materials to reduce waste and carbon emissions.
You will float through your run with the soft and breathable ASICS GlideRide 3.