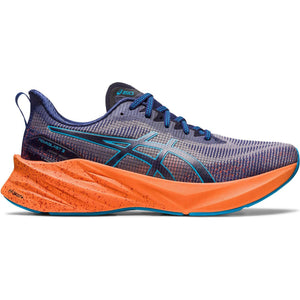 Whether you are going out for a five-mile run or just want a fashionable and comfortable shoe for walking around the city, the ASICS NovaBlast 3 LE gives you the cushion and style you crave.
This limited edition version features a Nexkin mesh material upper that evolves the design of the shoe and improves ventilation.
The Novablast 3 now features a trampoline-inspired outsole design and FF BLAST™ PLUS foam that creates a more energizing rebound. ASICS designers also added more cushioning, while making the shoe significantly lighter using a new midsole compound.
A heel stabilizer supports the foot to give you a more balanced stride, while the tongued wing construction helps improve the fit and reduces tongue slippage.
The ASICS Novablast 3 LE is a great everyday trainer that provides a lively, cushioned ride and an extra dose of style and breathability.