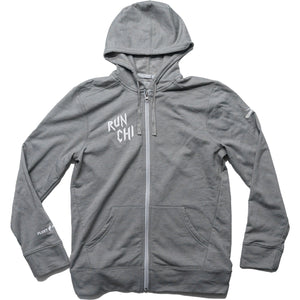 Keep cozy with this one-of-a-kind zip hoodie. This super soft and semi-fitted hoodie is the perfect addition to keep you warm and comfortable before or after the run. Designed by Fleet Feet Chicago Merchandiser Russell Yost, the graphic takes inspiration from their 14 years living in Chicago.
"The skyline is the perfect metaphor of Chicago. Each building is unique and tells a different story of Chicago's history and they survive the harshness of the winter's and thrive in the wonders of the summertime, just like us. Every time we see the skyline, whether covered in ice or reflecting the bright summer sun, our skyline is always changing and always radiant."
Using their experience as a fashion designer working in patch-work textiles, this illustration leans into that skillset.
"After tons of research on the buildings, I drew each building by hand before scanning it in and finessing the line work. Some people will look at this design and see the skyline they know and love, but some people might see the melting triangles of snow or the dazzling shards of sunlight."