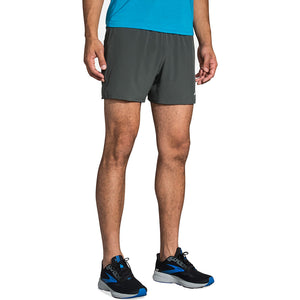 Run free in the Brooks Sherpa 5" Short.
Brooks took its popular Sherpa short and updated for an even more comfortable fit. Designers created a new flat waistband that doesn't ride up or slide down, and they tweaked the fit to allow for maximum range of motion.
Brook also included an internal brief-style liner. The new liner is soft and stretchy to increase comfort, and it wicks sweat to keep you dry. If you're looking for more coverage, though, the Brooks Sherpa 5" 2-in-1 Short has all the same features but with a boxer-brief style liner.
But it's not just high-performance: Brooks engineered the Sherpa shorts with a large rear pocket in the waistband that can hold your phone and a pocket on each hip for extra storage when you're on the go.
With a 5-inch inseam for a mid-thigh cut, the Brooks Sherpa 5" Short lets you run without distraction.