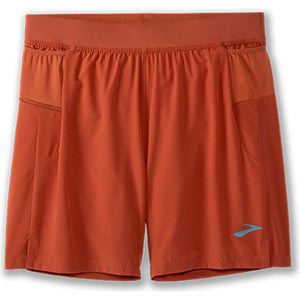 By cutting distractions, the Brooks Sherpa 7" 2-in-1 Shorts give you the freedom to focus on your run.
The difference between the standard Brooks Sherpa 7" Short and this 2-in-1 version is the internal liner. While the regular version uses a shorter internal brief liner, the 2-in-1 model uses a boxer brief liner. The longer boxer brief wicks sweat, dries quickly and stretches with you to keep you moving forward.
A new flat waistband with a drawstring ensures a comfortable fit, and it sits a little higher on your waist for better coverage. Plus, a host of pockets can stash your phone, gels, keys and plenty more.
Built for total comfort and full coverage, the Brooks Sherpa 7" 2-in-1 Shorts are ready to run.