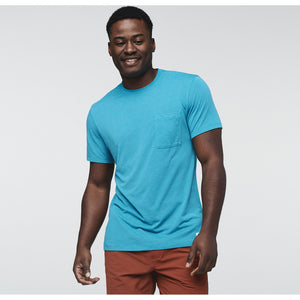 Comfortable and stylish, the Cotopaxi Paseo Travel Pocket T-Shirt is built for adventure.
This super-soft tee is the perfect shirt for travel—it has a classic crew neck and is made with durable, sweat-resistant and quick-drying fabric. It even has a passport-compatible exterior chest pocket.
Not only is this shirt comfortable, but it also has a Polygiene® anti-odor finish, so no one will know if you wear it a couple of times between washes. Plus, it is made with sustainability in mind with 80% recycled polyester and 20% TENCEL, a uniquely sustainable fiber harvested from all-natural materials.
Travel in comfort, even if it is only to your couch, with the Cotopaxi Paseo Travel Pocket T-Shirt.