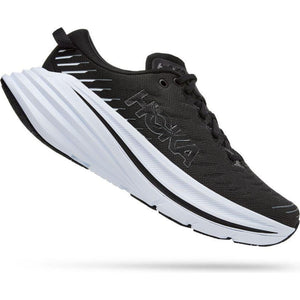 Everyone's favorite maximally cushioned road shoe just got a performance upgrade. HOKA took the Bondi 7 and added a carbon fiber plate to the midsole to create the Bondi X.
Designed to go the distance, the HOKA Bondi X has a tall stack height of soft cushioning that feels great on tired legs. Now spring-loaded with a carbon fiber plate, the Bondi X feels smoother than ever and provides a more efficient, propulsive ride.
During long runs where you want to pick up the pace, the carbon plate adds stability and a firmer toe-off so you can press on the gas. When you're tired, the 5mm drop and early-stage meta rocker rolls your foot forward for a quick, easy turnover.
Built for comfort and performance, the lightweight upper is breathable and durable for hundreds of miles, and the padded heel collar prevents any rubbing or blisters. Reviewers said "The thin tongue has a suede-like feel, so it's really comfortable against my skin."
Overall, the Bondi X improves on an already awesome cruiser of a shoe that's ready to go when you want to pick up the pace. Check out our video review on the new Bondi X.