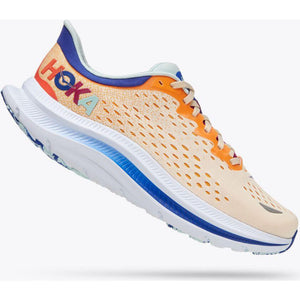 Breaking the mold with a lively new foam, the HOKA Kawana earns its name from the Gold Coast's famous beach break.
The Kawana continues to push the boundaries of HOKA foams and geometries, settling itself nicely in between the Clifton and Bondi as a maximally cushioned neutral training shoe. Designed to create endlessly smooth heel strikes, the SwallowTail™ geometry of the extended crash pad will immediately grab your eye. Then, HOKA's early-stage Meta-Rocker guides you through your gait cycle like a rocking chair to give you a fulcrum effect through toe-off.
HOKA uses an all-new CMEVA foam in the Kawana midsole that's built to give you lasting support. This playful new cushioning gives the shoe a firmer, more responsive ride and solid rebound that doesn't feel too soft underneath you.
Our reviews liked the smooth, springy, semi-firm ride and comfortable fit in our HOKA ONE ONE Kawana review.
The result is an accessible daily trainer with a well-balanced ride and maximal HOKA comfort that can hold up to any pace.