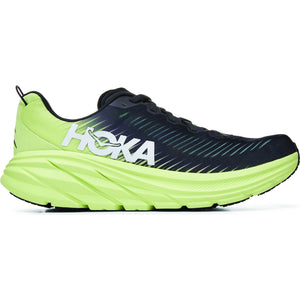 Cushioned yet lightweight enough to handle longer runs as well as race-day speeds, the HOKA Rincon 3 gives you a smooth and comfortable ride mile after mile.
Whether you're just starting to run, crossing a marathon off your bucket list, or spending long hours on your feet, HOKA's signature cushioning and ultralight midsole is the perfect combination of soft, snappy and lightweight.
To shave weight without compromising the Rincon's comfort and fit, designers updated the Rincon 3 with a vented mesh upper that stays breathable and cool when the weather heats up.
A thinner pull tab lets you slip the Rincon 3 on as easy as your favorite pair of slippers while the asymmetrical tongue gives your foot a secure lockdown that fits ergonomically to each foot.
During your run, you'll love the super-smooth landings and efficient turnover due to HOKA's early stage Meta-Rocker. Already a lightweight classic, the HOKA Rincon 3 makes each step feel effortless and responsive.