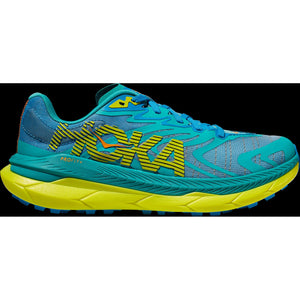 Be ready to dominate the trails in the HOKA Tecton X2.
This carbon plated trail running shoe propels you as you zoom through the trails. There are two parallel carbon fiber plates that act similar to tectonic plates, giving you extra oompf, while still allowing you to adapt to uneven terrain. The Profly™ X midsole construction gives you cushioned landings and snappy toe-offs mile after mile.
A brand new Matryx® upper is light, breathable and inherently hydrophobic. It has been redesigned to give you a great midfoot lockdown, while maintaining a roomier toe box. The gusseted tongue lays flat and prevents any trail debris from getting inside your shoe.
The Vibram® Megagrip with Litebase outsole gives you rugged traction without unnecessary weight, so you can fly through the trails with ease. Get to the finish line faster with one of the best trail shoes, the HOKA Tecton X2.