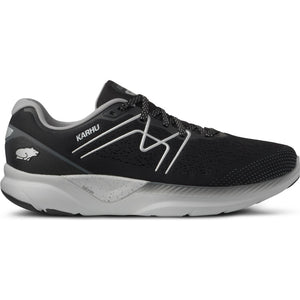 Be ready for an uptempo run in the KARHU Fusion 3.5.
This swift and nimble shoe has been streamlined with a new upper and engineered for faster turnover. The Fusion features Karhu's 3/4 length Fulcrum in the midsole that provides the quickest roll out of the Karhu shoe lineup. It concentrates the cushioning toward the heel and midfoot, creating a responsive rocker shape that stabilizes each step and propels you forward.
The plush and propulsive ride is also thanks to Karhu's AeroFoam midsole, which is lightweight and more temperature resistant than the traditional EVA midsole foam. It provides super-soft landings, while an added propulsion unit energizes take-offs.
The new upper features a breathable engineered mesh that is designed with an intricate venting pattern and reinforced with glue print toe accents and a sleek heel counter. This new upper looks more stylish and feels more comfortable than ever.
With the KARHU Fusion 3.5, you will be rolling through your runs.