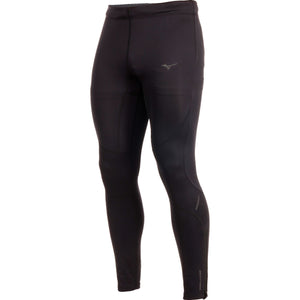 Perfect for your cold-weather runs, the Mizuno Breath Thermo Tight is an essential addition to your winter running kit.
Comfortable to wear as a base layer or as your winter running tights, Mizuno's signature Breath Thermo fabric keeps your lower body warm by using your escaping body vapor to generate heat even in the coldest conditions.
These cold weather running tights are made from a moisture-wicking fabric that is soft and stretchy, so they keep you dry when your run heats up to prevent chafing and irritation.
The 360-degree reflectivity means others can see you when you're running in the dark, and a side zipper pocket lets you stash away some tissues or keys.
Take comfort in a warm run with the heat-generating Mizuno Breath Thermo® Tights. Looking for other cold weather running apparel? Check out our guide on the best winter running apparel.