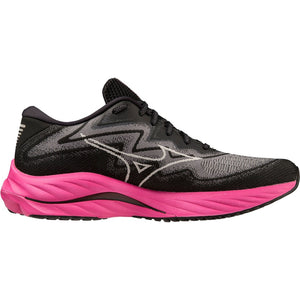 Run with a purpose in the Mizuno projectZERO Wave Rider 27.

Mizuno's ProjectZERO is aimed at reducing the number of women diagnosed with breast cancer from 1 in 8 to zero. To do this, a portion of each sale of the Mizuno projectZERO Wave Rider 27 will go to the Breast Cancer Research Foundation with the hope that no one has to miss a life experience due to breast cancer.
The Mizuno Wave Rider 27 brings a new level of responsiveness and the smoothest ride possible thanks to its bio-based wave plate and Mizuno ENERZY foam.
The breathable jacquard mesh upper gives you both stretch and comfort along with a gusseted tongue that secures your midfoot for a distraction-free run. Plus, the upper is made of 90% recycled materials.
Enjoy the comfort and durability of the Mizuno projectZERO Wave Rider 27 and help make a difference in the fight against breast cancer.