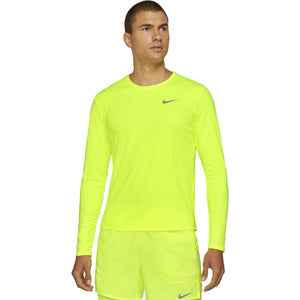 If you're not sure where to start with what running apparel to get, the Nike Dri-FIT Miler Long Sleeve will be a staple for your closet.
It's made from buttery soft, knit fabric that feels great mile after mile. The lightweight and silky material sits smoothly on your skin to keep the chafing at bay.
Moisture-wicking materials are essential for any running top. Nike Dri-FIT technology quickly moves sweat away from your body to keep you from feeling wet and sticky after your workout.
For long days running under the sun, this running shirt has UVA and UVB protection for extra coverage. Run, move and play in the Dri-FIT Miler Long Sleeve. The shoulder seams are adjusted to give you plenty of space for warm-up arm swings, jumping for rebounds and warrior poses.