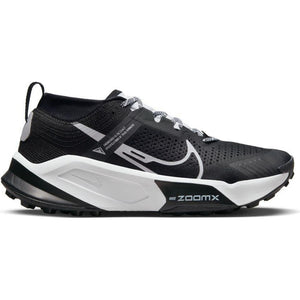 Max-cushioned for long miles off-road, the men's Nike ZoomX Zegama Trail will help you reach new heights.
Nike took its fast and lightweight ZoomX midsole foam found in many of their popular road shoes and added it to the Zegama Trail to give you a responsive ride and extra impact protection during extended days spent on the trails.
When you're running across technical terrain, the diverse lug pattern gives you extra traction to help you charge up steep ascents or confidently navigate a slick decline.
The breathable engineered mesh upper is stronger and more flexible than regular mesh and gives the foot extra stability on uneven terrain. Plus, a stretchy ankle gaiter keeps dirt and rocks out of your shoe and on the trail where they belong.
Whether you're running an ultramarathon or going for a long hike on your favorite trail, the Nike ZoomX Zegama Trail has you covered when you decide to go off road.